maber's competition entry for a proposed World War 1 Memorial, located within the Memorial Gardens on Nottingham's Victoria Embankment, consists of 1400 tubular steel vanes reaching from the ground to a height of 10m.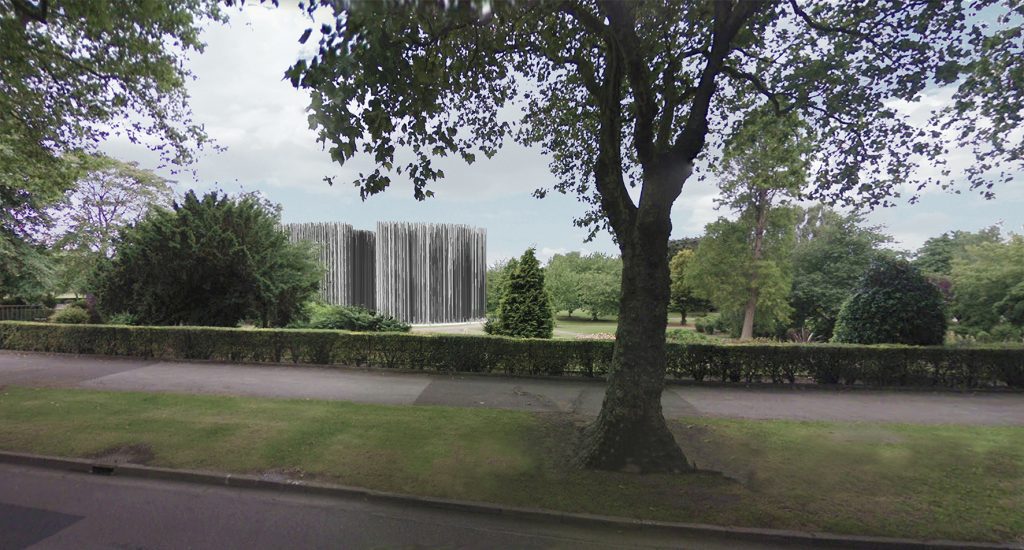 Location:

Nottingham


Services:

Budget:

£0.2m

Client:

Nottingham City Council and Nottinghamshire County Council


Sector:

Landscape Architecture
Culture & Leisure

The brief was to create an iconic piece of public art to stand as a memorial and definitive roll of honour of the 14,000+ names of Nottinghamshire people who lost their lives fighting throughout the First World War. The design was to inject a sense of drama, forming a landmark and visitor destination, whilst creating a contemplative and reflective memorial.
When viewed from a distance the sculpture appears monolithic and impenetrable, however as the viewer moves closer they see the vanes moving gently against one another like reeds in the wind, creating a shimmering, gentle, natural action of light. The monolith visually breaks down into a collection of individual elements. This double reading of the form is significant as the loss and sacrifice is felt collectively and personally.
The number of vanes is significant to the concept as they relate directly to the number of casualties. 1,400 vanes with each vane engraved with the names of 10 casualties to fully represent the 14,000. The sheer number of vanes impresses upon the visitor the scale of the sacrifice. The movement of the vanes against one another and the sky express individually, yet solidarity within the context of the sculpture.
The sculpture is one of transformation. It doesn't aim to narrate. It aims to create a contemplative space. A calm, poetic space that speaks to reflection and draws attention to the element qualities of wind and sky.
As a visitor enters the perimeter of the monument visual corridors become channeled into the centre and upward to the sky relating to the experience of the battlefield trenches. External sounds are muted and the movement of the vanes against the sky becomes the primary experience.
From the edge of the monument the perception of a monolithic form breaks down into individual vanes. Their gentle and continuous motion give life and movement to the experience. Names engraved on the steel vanes become visible bringing attention the scale of the casualties.
The monument, highly visible from Victoria Embankment, adds to the experience of park users and raises the profile of the Memorial Gardens. The opportunity to light the monument at night with downlighting that illuminates the vanes without adding light pollution adds a dramatic visual feature to the city.
.