maber is committed to being a more regenerative practice – both in business operations, and on project work, where the majority of our environmental impacts arise.
Our vision is to be a 'Sustainable architectural practice that delights clients who value excellence in innovation, service and design.'
The next decade will be critical for safeguarding life on our planet and as a practice that influences the design of the built environment, our role is critical to help mitigate the effects of climate change.
Our approach to Net Zero

To help formulate our route map to Net Zero we have chosen key areas to focus on which align with our skills and areas of influence. We have adopted the initiatives set out in the RIBA 2030 Climate Challenge and the UN Sustainable Development Goals (SDGs) to help guide our journey. We are also members of UK Green Building Council (UKGBC) and a signatory of the UK Architects Declare Climate and Biodiversity Emergency.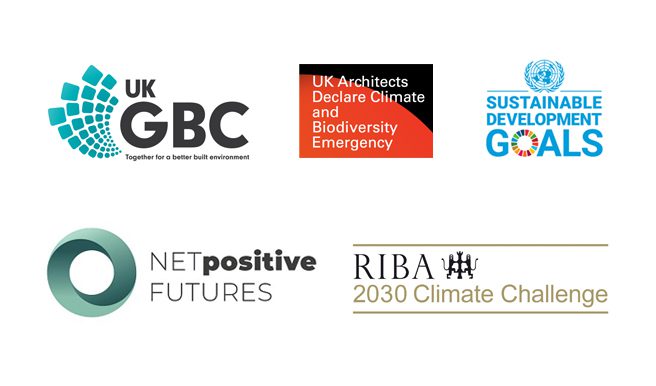 Everything that we design by 2025 will be influenced by, and attempt to achieve the targets in the RIBA 2030 sustainable outcomes guide.
The RIBA 2030 Climate Challenge initiatives seek to address environmental, social and economic sustainability. Their eight priority areas include:
Whole Life Carbon
1. Net Zero Operational Carbon
2. Net Zero Embodied Carbon

Environmental+Social+Economic Sustainability
3. Sustainable Water Cycle
4. Sustainable Connectivity and Transport
5. Sustainable Land use and ecology
Social + Economic Sustainability
6. Good health and well being
7. Sustainable Communities and Social Value
Economic Sustainability
8. Sustainable Life Cycle Cost
Our key drivers are:
Develop and encourage innovative solutions to improve environmental and social performance of every project that we work on with a particular focus on the eight priority areas listed above.
Minimise the impact of our own business operations and to assess and report on improvements annually against a 2022 baseline.
Ensure that all our staff put sustainability first and upskill them through a continuous training and learning programme so that they have the knowledge and expertise to deliver sustainable design solutions.
Provide leadership within our sphere of influence across the built environment sector through active research and development, speaking at conferences and seminars; lecturing at universities and participation in key industry organisations.
Maintain our ISO 14001 environmental management system and an OHSS 45001 Occupational Health & Safety System and seek continuous year on year improvements.
Assist our staff to apply sustainability principles at home and in their communities.
How we help our clients
The requirement for our clients to satisfy government targets and deliver net zero carbon buildings is a huge remit, particularly in light of the unstable economic climate. maber has the track record and expertise cross-sector to help navigate the process in order to deliver progressive, sustainable project outcomes.
We have a commitment to our clients to deliver compliant, passive, environmentally-friendly projects that utilise renewable technologies and provide cost effective design solutions. We are focussed on keeping our clients up to date with legislative changes that influence the make-up of buildings in order for them to comply with their own corporate social responsibility agenda.
We can offer clients the following services and expertise:
Sustainability briefing
Parametric environmental modelling
Embodied carbon analysis and reduction
Operational energy and Passivhaus
Modern methods of construction and design for manufacture and assembly
Retrofit evaluation and optioneering
Digital sustainability for design optimisation
Environmental accreditation advice (BREEAM, LEED, etc)
Sustainable urban drainage design
Design for biodiversity 
Regenerative land use analysis.
We also collaborate on projects with some of the most progressive and innovative sustainability consultants in the field, so if we need specialist advice, then we know who to turn to.
Examples of some of our Sustainable Projects