This well-considered scheme provides additional car parking for both Costain and Emirates offices at Manchester Business Park.
Location:

Manchester


Services:

Budget:

TBC

Client:

BNP Paribas


Sector:

Workplace

Costain and Emirates offices share a large site on Manchester Business Park with ground level parking. A need for additional parking on site had become apparent due to parking problems caused by an overabundance of vehicles. 
With a restriction of ground space and residential properties bordering the site, the scheme had a number of challenges to overcome.
After looking at a series of options, the chosen design maximises the use of the site without imposing or overwhelming its surroundings. Locating the new car park between the two buildings, the proposal has delivered the brief in a sensitive manner that meets the client's requirements, users' needs and answers the relevant planning policies.

The additional parking gives a net gain of 66 spaces whilst minimising loss and disruption to existing parking provision. This became a key driver during the early design stages. There was also an expectation for maber to improve the sustainability credentials of the site. With the inclusion of at least 18 new electric car charging points this has been delivered, helping to futureproof the site whilst promoting current eco-friendly travel.
The scheme follows the clean, simple and modern vernacular of the existing business park. It is largely open and therefore allows light to penetrate throughout which further minimises the visual impact on its surroundings.
Both the north and south elevations have green walls, softening the appearance of both key elevations from its neighbours. The architecture of the existing buildings necessitated a sympathetic and high-quality finish. Therefore slim steel balustrading, a light metal mesh and an unobtrusive structure is proposed continuing the light, clean and minimal architectural language.
.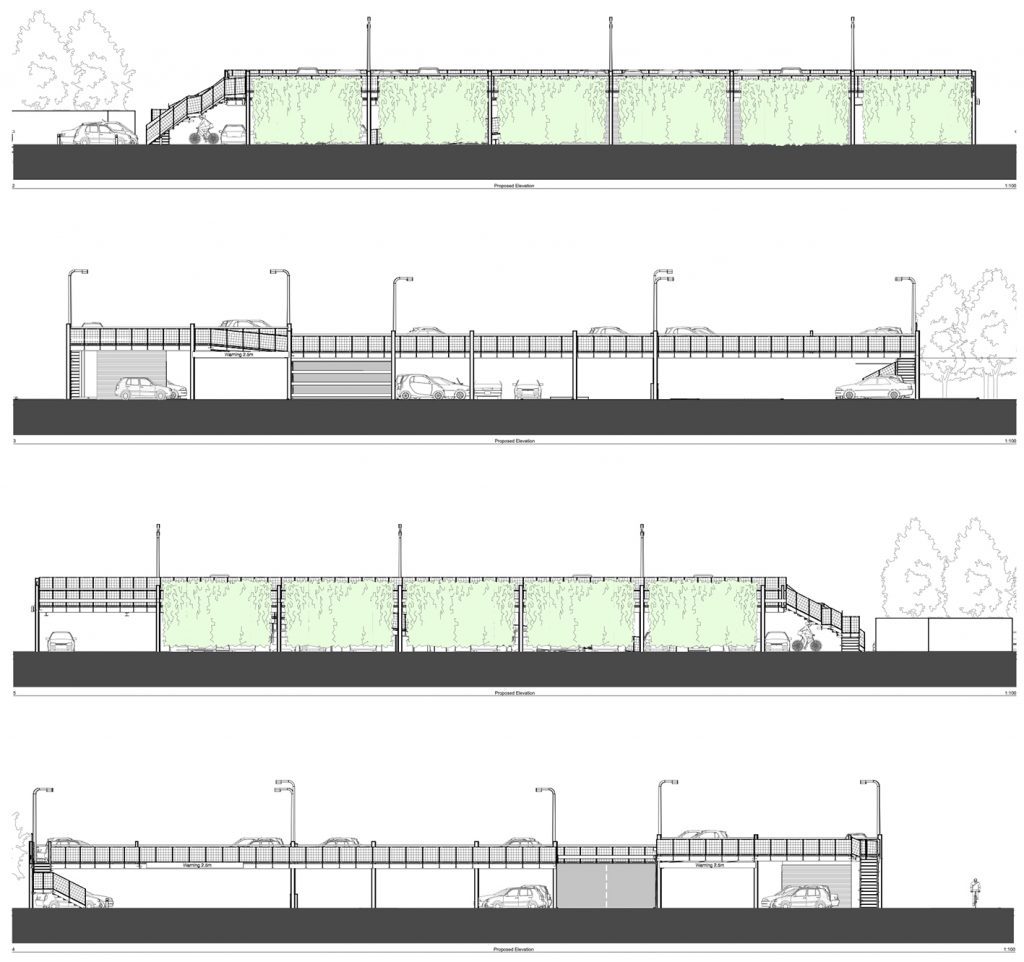 The additional parking is limited to a single new level and it is envisaged that as the green elements mature, the car park will be virtually hidden from its surroundings. This significantly minimises any perceived negative visual impact and was another key design consideration.
The rigorous design process has resulted in a strong proposal that sits well within its surroundings, functions as necessary and is of a high quality finish in keeping with the site.
Planning permission was successfully approved in February 2021 and we anticipate moving to construction in the near future.