The proposed headquarters for ROMO Fabrics will deliver a new consolidated operational building in Kirkby in Ashfield.
Location:

Nottinghamshire


Services:

Client:

ROMO Fabrics


Size:

33,000 m2 GIA

Sector:

Workplace

One of the central themes that evolved during the concept design stage, was that of a building which would reveal itself in stages. The building will not be immediately apparent from its entrance due to a belt of mature trees running along the boundary emphasising the idea of exploration.
The proposed scheme will consolidate the ROMO business, which is currently spread across four sites, into one headquarters building that will allow the business greater efficiency and remove the current need to transport fabrics and other products between each of their sites.
The facility will total 33,000m2 of office, process and storage space, housing 285 staff, and is designed to allow for further expansion.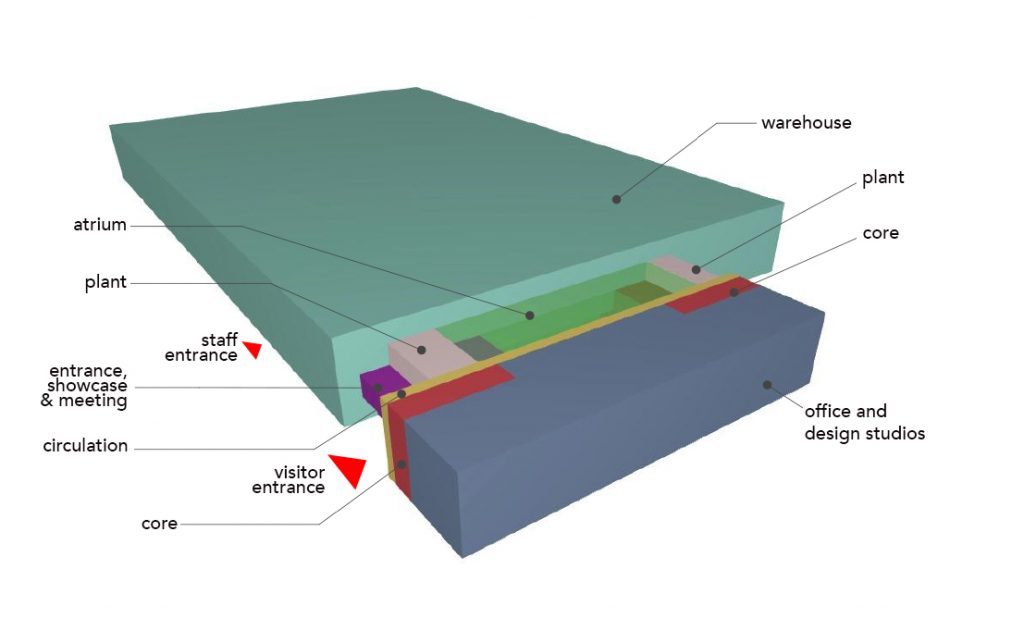 Zones
From a detailed analysis activities were separated into appropriate zones which produced the simple concept diagram for the internal organisation.
The layout of the building consists of three main elements: offices, atrium and warehouse. The main objective of the development is to bring together these elements by siting them on a masonry plinth, below the principal elevations. The forms above the plinth have a consistency of treatment and height, while the elements of the warehouse, atrium and offices have different details to reflect their internal uses.
The atrium at its north and south ends is largely glazed, accentuating the entrances and offering glimpses of the internal space.
Materials
One of the client's core values as a business is quality, in both material and design. This drive from the client has led to a simple palette of materials.
The offices will be clad with a system of curtain walling containing glass and coloured panels. To avoid breaking up the clean lines of the facade, louvres will be incorporated with internal opening lights to provide fresh air to the offices.
The cladding to the warehouse element will be metal and mimic the verticality elsewhere in the design. Simple cladding with well-detailed openings, where appropriate, give a clue to the process activities in this section of the building.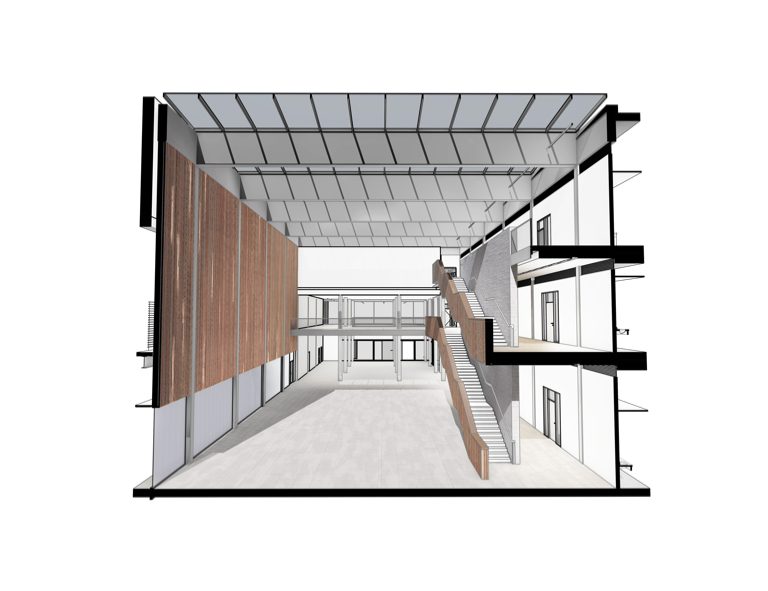 Landscape Objectives
The ROMO Group headquarters' landscape scheme strives to create a visually stimulating, environmentally sustainable site with well defined circulation patterns and clear hierarchy of function. The landscaping is to provide a high quality 'place' which is sustainable, safe and attractive.
maber are also the Interior Designers for this project.