The WMG Academy for Young Engineers is a University Technical College (UTC) and its new building and flexible working space, has been designed to inspire the automotive and aerospace engineers of the future.
Location:

Solihull


Services:

Budget:

£10m

Client:

BAM Construction


Size:

5,600 m2 GIA

Sector:

Education - Further

The WMG Academy for Young Engineers, based in Solihull, was completed and handed over in August, just in time to welcome its first cohort of aspiring engineers at the start of term. The ethos of the Academy is problem solving and practical solutions with ICT and digital technology driving a 'designing, creating, making' approach.
The building has transformed what was once a muddy patch of land at the edge of a Solihull park into an inspirational learning hub. It provides a fabulous 'business led' learning environment for 14-18 year olds that feels less like a school and more like a modern work-place.
On the outside, the modern, industrial theme continues with grey cladding and blue brick – communicating the purpose of the building to the surrounding community.   Carefully designed landscaping draws in and welcomes students and visitors to an impressive entrance.   A large window to the front reveals the workshop space – showcasing the work that takes place inside.
 We've been very engaged with the design and build of the academy from an early stage which has helped us deliver it successfully, and it has assisted the quality of the partnerships we've formed here. That's a very good model for delivering construction projects generally, and it helps the client get the building they want at the end. I'm pleased to see it looking so good.

James Turner, BAM's project manager for WMG Academy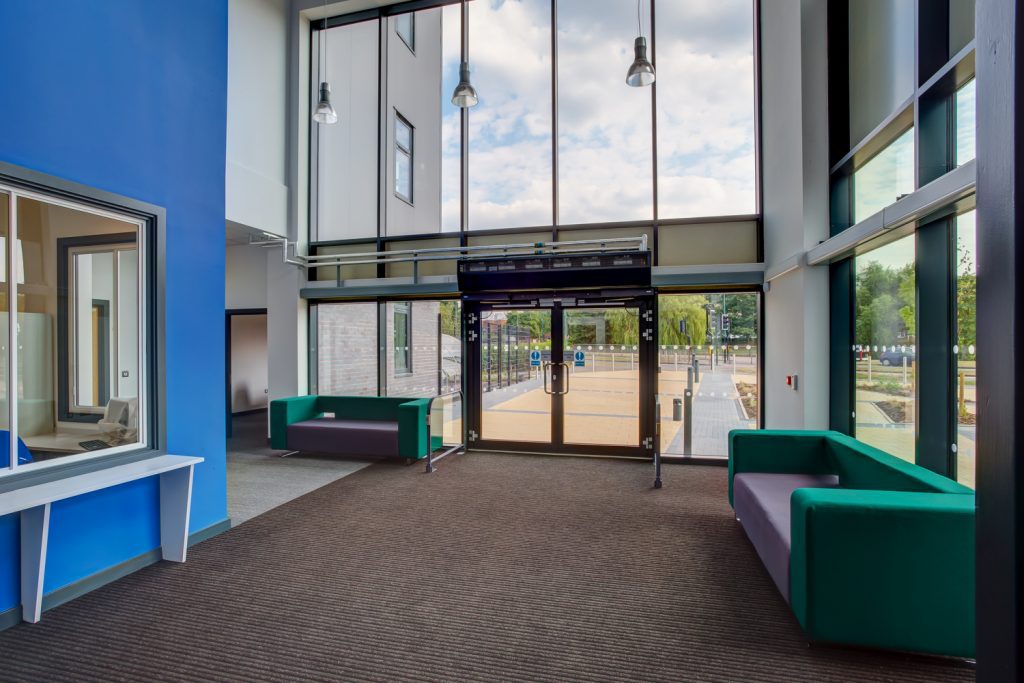 Landscape Architecture

maber landscape department also designed the landscape masterplan, detailed planting and hard landscape design. The SUDS system was designed as landscape elements within the site. Suitable wetland planting was selected to help integrate the drainage system with the existing habitat.