Alfreton Park Community Special School forms part of a family of nurturing buildings providing care for people of Derbyshire with special needs, all within the historic, attractive, woodland setting of Alfreton Park.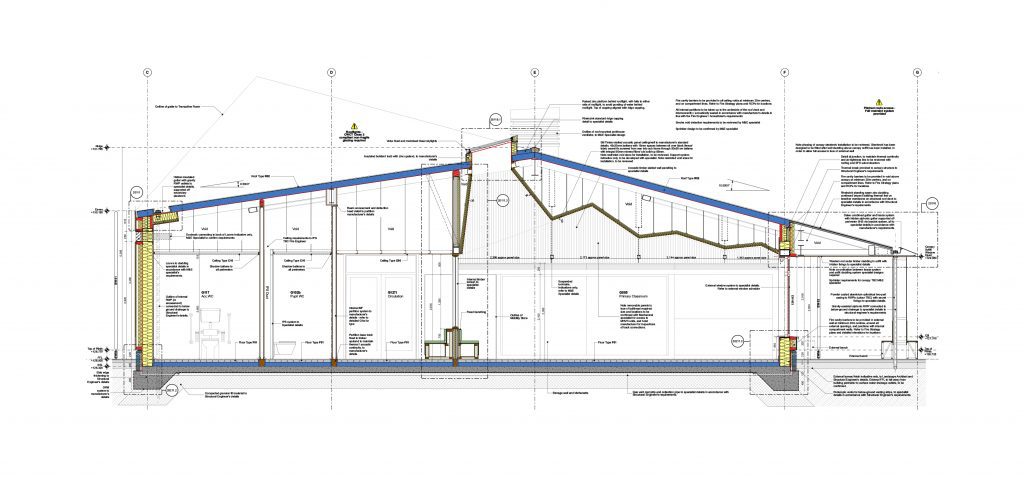 Location:

Derbyshire


Services:

Budget:

£13.2m

Client:

Derbyshire County Council


Sector:

Education - Primary

maber have delivered this £13 million scheme under a Design & Build contract with Henry Brothers Midlands Ltd for Derbyshire County Council, with completion expected February 2022.
The new single-storey SEN building, situated on a raised hillside plateau facing south, has a low-lying form enabling it to blend into the context and follow the natural contours of the steep site. The building comprises 4 wings arranged around a central hub, which houses therapy spaces. There is a separate Hall and Community wing, and an Administration wing accommodating the main entrance.
The external landscape design comprises a play area within the courtyard at the heart of the scheme, sheltered by the wings of the building. External teaching and forest school spaces are also positioned around the building perimeter, and a MUGA and car parking is provided to the north of the site.
.
The teaching wings follow a simple legible diagram of classrooms to the south / west and support spaces to the north / east, with specialist rooms and support spaces distributed around the school. These include Music, Drama and Food Technology teaching areas, as well as therapy, soft play, sensory and trampoline rooms.
Green zinc cladding on the elevations reflects the agricultural setting, with more robust terracotta tiling in a matching colour facing onto the outdoor teaching areas. By contrast the Hall and Community wing, which sits further into the site, is distinguished by deeper red cladding to signpost its location and highlight its importance in the local community. Large external glazed screens to key spaces, and simple punched windows to ancillary / support areas, flood the building with natural daylight and provide stunning views across the Derbyshire Countryside.
Internally the school wished to avoid an 'institutional' feel associated historically with this building typology. As such internal finishes and colours have been selected to provide a calming atmosphere sensitive to the needs of pupils and staff to create a relaxed 'domestic' feel throughout. Exposed feature timber trusses and skylights are provided in the Main Hall and Dining Room, creating impressive yet comfortable well-lit double-height spaces. 
The feature profiled suspended acoustic timber classroom ceilings are carefully coordinated with large rooflights overhead, allowing pleasant naturally-daylit teaching areas to be created. The pitched roofs have deep overhangs at the building perimeter and act as canopies over external teaching spaces. This also provides solar shading to the classrooms and protection from the elements in this exposed area of the site.
Following the success of the scheme maber were asked to produce a feasibility for converting the adjacent Deer Shed building into a cafe and restaurant.