This project sees the full refurbishment of the University of Nottingham's historically significant Florence Boot Hall.
Location:

Nottingham


Services:

Budget:

£10.2m

Client:

University of Nottingham


Sector:

Education - Further & Higher
Interiors
Residential - Student

This was the first purpose built Hall of residence on the University Park Campus and the first Hall at the university to be constructed for female residents – an idea spearheaded by its namesake and funder, Florence Boot.
Constructed in 1928 with later extensions in the 1950's and 1970's, the Hall had not been refurbished since the early part of this century and was in urgent need of repairs in order to remain operational due to the presence of asbestos contamination within the service areas. As a result of the ageing nature of the building's service infrastructure the decision was taken to opt for a full refurbishment with the building stripped back to its structure with the removal of all mechanical and electrical services.
This approach has allowed the design team to deliver a fabric first approach to the refurbishment with insulation of the solid masonry external walls, new triple glazed timber windows will replace PVCu units installed some 20 years ago. A refurbished slate roof with new leadwork throughout will ensure the weather is kept out for many years to come. Heating will be provided by air-source heat pumps capitalising on the rapid decarbonisation of the grid to provide low carbon heating for the building. Domestic hot water is also electrically heated.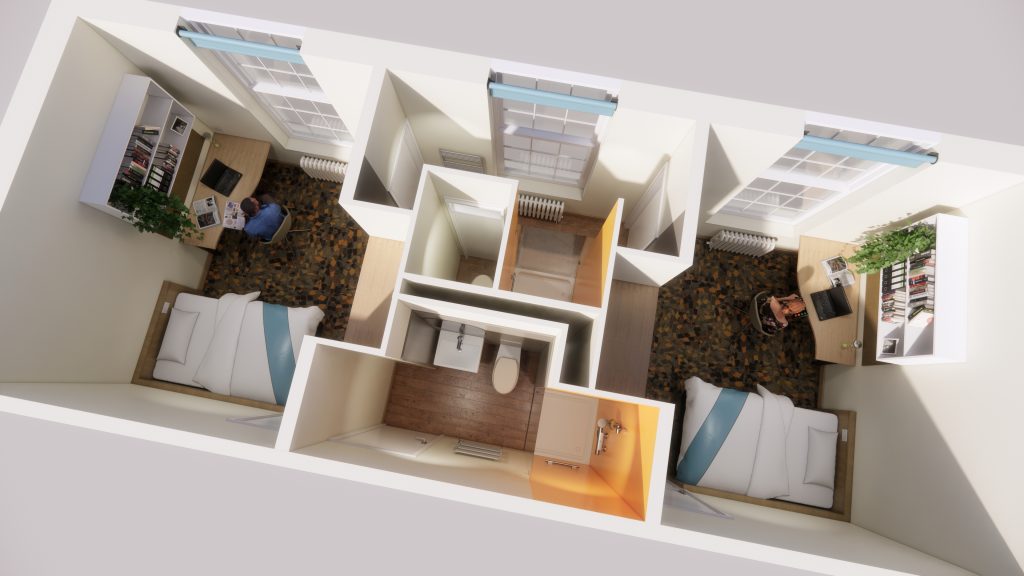 Internally, tutors' flats and other ancillary areas are being repurposed to provide additional student bedrooms. The building currently houses 196 students with new proposals providing 200 bed spaces alongside improved sanitary accommodation with an increase in numbers of pantries and en-suite bedrooms. Bedrooms will be fitted with custom designed furniture which has been developed with clean lines and longevity in mind to create a timeless feel to the bedrooms.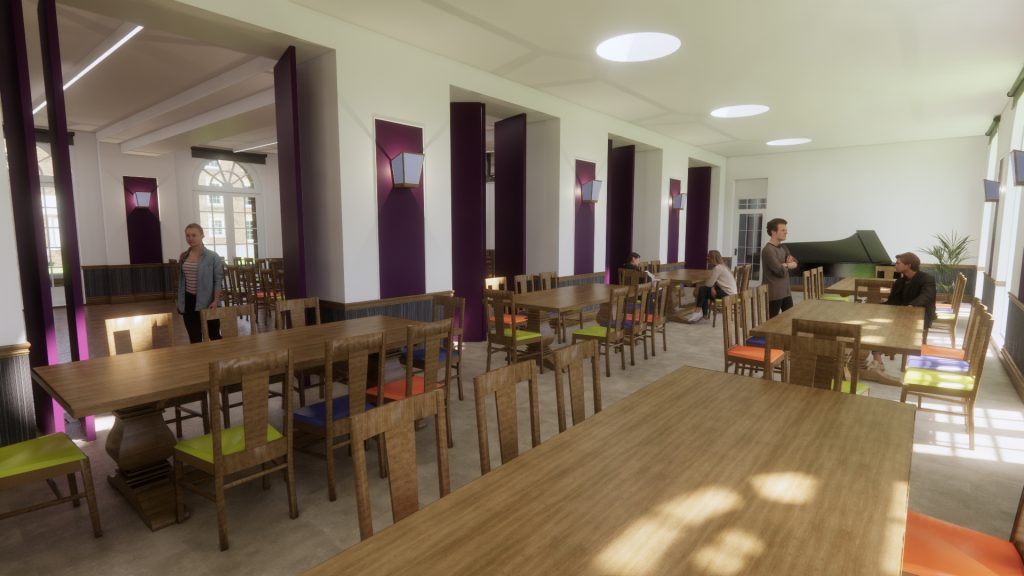 Heritage features throughout the building including original woodwork and parquet floors have been retained and will be refurbished to a high standard. A new main entrance space is being created which will provide views out of the building into the landscaped courtyard which lies at the heart of the building.
As part of a feasibility and funding study for the client, maber developed RIBA Stage 2 proposals for a three storey, 49 bedroom annexe which could be constructed within the landscaped grounds of the Hall. The proposals featured an off-site manufactured mass timber structure, clad in brickwork and stone, detailed in an uncompromisingly contemporary style which was developed to compliment the austere Georgian style of the adjacent Hall. Bedroom sizes and layouts were developed as a result of an in-depth study of national trends in PBSA provision to enable the University to offer cutting edge accommodation to its students. The annexe has been designed in association with our internal access officer to be fully wheelchair accessible.
Externally the main entrance, currently situated within a space dedicated to car parking and vehicular access, is to be converted into an attractive landscaped courtyard with high quality hard landscaping complimented by ornamental tree planting and associated soft landscaping which will provide an entrance befitting of the Hall's important heritage status within the campus.
Improved landscaping will replace an ageing aluminium conservatory providing an attractive landscaped courtyard for the Hall's bar area. Improved landscaping is also being provided to the Hall's Junior Common Room, with herringbone paving to an external terrace where soft and hard landscaping provides a pleasant space for external games and quiet reflection alongside a wildflower meadow with views towards the Trent Building, named after its benefactor Jesse Boot, Lord Trent.